---
Six ports, two railroads market coast as gateway, seek federal support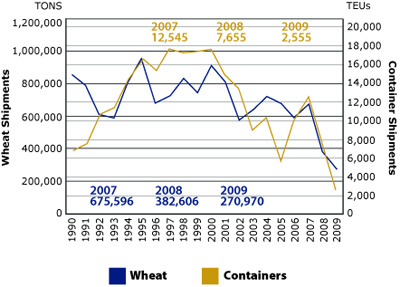 West Coast port directors and executives from the two Class I western railroads meeting in China cited their region's deep-water ports and extensive ocean and intermodal rail services as reasons why the West Coast is the preferred gateway for U.S. trade with Asia.
Port directors from Seattle, Tacoma, Portland, Oakland, Los Angeles and Long Beach, and executives from the BNSF and Union Pacific railroads, formed the U.S. West Coast Collaboration this summer to strengthen the position of the West Coast in the important Asia-U.S. trade.
The port and rail executives promoted their region before transportation industry and shipper representatives attending the World Shipping Summit in Qingdao, China.
West Coast ports handle about 70 percent of U.S. trade with Asia, although that share is down about 4 percent since 2006. Competition from East Coast ports that are served on all-water routes from Asia through the Panama and Suez canals, as well as Canada's Pacific Coast ports of Vancouver and Prince Rupert, have been taking market share away from the West Coast.
The West Coast coalition was formed to seek federal government support for a national goods movement program that includes U.S. ports and western railroads. Also, the coalition intends to use the combined resources of the six container ports and two railroads to brand and market the West Coast gateway.
"Today's economic conditions have compelled all of us to take a closer look at how we conduct our business to discover new approaches that yield improved results," said Omar Benjamin, Oakland executive port director.
No other U.S. port region offers the level of transportation services and maritime infrastructure linking the U.S. with Asia, the port and rail executives noted. More than 30 ocean carriers provide in excess of 100 vessel calls per week, connecting the West Coast with direct service to 80 ports in 36 countries.
Some 31 container terminals with 225 cranes and deep water able to accommodate today's mega-ships provide efficient, low per-unit cost of container transportation, the port directors noted.
BNSF and UP rail executives emphasized the billions of dollars the railroads invest each year to expand track and lift capacity, and the more than 200 weekly trains that link the ports with dozens of consumer and manufacturing destinations in the eastern half of the country.
Coalition members also cited the rapid transit times of 10 to 14 days from Asia to the West Coast, with four-day intermodal rail service to the Midwest and six days to the East Coast population centers.
Ocean services from Asia to the West Coast typically involve strings of 5 vessels whereas all-water services through the Panama and Suez canals to the East Coast require strings of nine to 11 vessels. West Coast services are therefore cost-effective and result in lower diesel emissions than East Coast services, the port directors stated.
---
Bill Mongelluzzo
West Coast Ports, Rails Collaborate
The Journal of Commerce, November 11, 2009
---
See what you can learn
learn more on topics covered in the film
see the video
read the script
learn the songs
discussion forum