---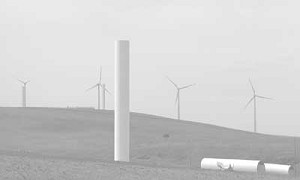 Eight in 10 Californians favor tougher fuel efficiency standards for cars, federal funding for solar and wind power and curbs on heat-trapping emissions from factories and power plants, a new public opinion poll has found.
And even with the anemic economy, most state residents say policymakers must act now to head off the more damaging impacts of climate change.
"At a time when the economy continues to be a question mark for the average Californian, they remain steadfast in their belief that the state needs to be a leader in climate change policy and in changing the way we use energy," said Mark Baldassare, president and chief executive of the Public Policy Institute of California.
The San Francisco think tank on Wednesday released its 11th annual statewide survey on Californians' attitudes about the environment. The findings, gleaned from 2,500 phone interviews between July 5 and July 19, largely tracked those of previous years, with one exception: Support for building nuclear power plants in California dropped 14 points since last summer, to 30 percent. Researchers say the recent nuclear crisis in Japan pushed the support level to its lowest since the institute began asking the question.
Consistent views
On most other issues tied to energy and the environment, Californians' views remained consistent.
A majority - 61 percent - say the effects of climate change are already being felt in their communities, forcing the need for state and federal actions to slash greenhouse gases. The survey has a margin of error of plus or minus three percentage points.
Among the most popular tactics are increasing gas mileage, with 84 percent in favor; increasing government spending on renewable energy sources, with 80 percent in favor; and further regulation of air pollution from refineries, power plants and manufacturing facilities, with 79 percent in favor.
Groups that promote such policies see a crystal clear mandate in the report's figures.
Wake-up call
"This poll says that Californians want to move forward with clean energy," said Dan Jacobson, legislative director for Environment California in Sacramento. "This should be a wake-up call for state legislators who should be moving as fast as humanly possible on clean energy and clean air."
Indeed, the study also found that 2 in 3 residents stand behind California's largest and most ambitious climate-change policy to date, AB32. Passed in 2006, the law requires the state to reduce greenhouse gas emissions to 1990 levels by 2020.
That said, voters were split on the best way to reach that goal. Fifty-four percent of respondents support a cap-and-trade system, in which the state would set a ceiling on the greenhouse gases that can be discharged, and the emitters would buy and sell the rights to release the gases. The policy would also set a hard, declining limit on the total emissions that could be produced.
On the other hand, 60 percent favor a straight-out carbon tax, a fee levied on companies that produce greenhouse gases. The idea there is to deter emitters with higher expenses.
Renewable sources
Another tool in the state's arsenal - increasing the proportion of energy supply from renewable sources, such as wind, solar and geothermal - also did well in the poll, with 77 percent in favor. That support dropped somewhat, however, when interviewers asked whether renewable energy is worth higher electricity bills. Just under half, 46 percent, favor alternative energy sources if it means paying more.
To some of the state's biggest manufacturers, that statistic only hints at the wider economic consequences of shifting to renewable energy sources, which they say are far more expensive than traditional fuels such as coal and natural gas.
"California already has far more renewable power than any other state in the country," said Gino DiCaro, spokesman for the California Manufacturers and Technology Association. "There's no reason to drive our energy rates even higher and make California businesses less competitive and increase the costs of consumer goods."
---
Kelly Zito
Poll: Californians Favor More Alternative Energy
San Francisco Chronicle, July 28, 2011
---
See what you can learn
learn more on topics covered in the film
see the video
read the script
learn the songs
discussion forum