---
BPA proposes power dael that could restart Columbia Falls Aluminum Company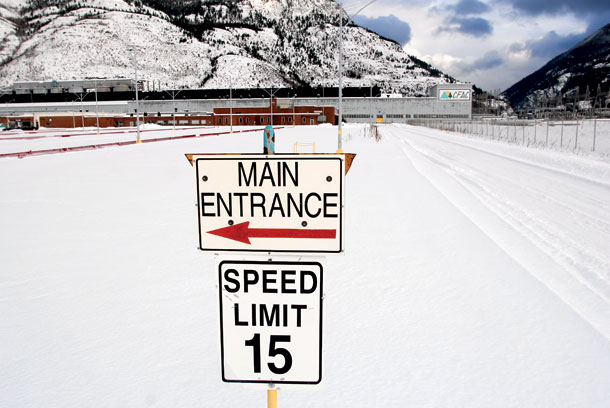 The announcement that Bonneville Power Administration has proposed a deal that could lead to the restarting of production at the Columbia Falls Aluminum Company was met throughout the Flathead Valley last week with cautious optimism. For many, the potential for the facility to reopen and employ hundreds serves as a sign that, despite any economic upheaval, Northwest Montana's traditional industries may be down, but they most certainly are not out.
Since the end of 2009, CFAC has been shuttered due primarily to the high cost of power needed to run the plant and the increasingly competitive nature of the global market. But last week representatives of the Bonneville Power Administration (BPA) announced a proposal to sell 140 average megawatts to CFAC at the industrial firm power rate. That rate is set at $36.32 per megawatt hour through the 2013 rate period.
The four-and-a-half year contract, beginning April 1, would provide enough power for the smelter to get two of its five pot lines up and running. The contract would also require CFAC to employ 231 full-time employees to run the facility. CFAC officials are considering purchasing power at market rate to get a third pot line in production, which could employ an additional 70 people.
"From BPA's perspective, we consider the positive effect of creating all those jobs in the Northwest," Bonneville spokesman Mike Hansen said. "That is one of the reasons we stipulate that in our proposed agreement."
Bonneville is a not-for-profit agency within the Department of Energy that manages the power provided by all federal hydroelectric systems in the Pacific Northwest. Therefore, according to Hansen, BPA's analysts had to conduct an "equivalent benefits test" to determine whether the positive results of providing the discounted power to CFAC are worth it, particularly when weighed against other power needs in the region.
"An initial run of this test showed that these benefits do equal or exceed the cost of providing this over a four-and-a-half year period," Hansen said.
He added that four-and-a-half years out was the farthest point analysts could determine the proposal would not adversely impact other customers of Bonneville. But that four-and-a-half year length in the proposal appears to be one of the key selling points for CFAC officials, providing them with a predictable rate of power for a relatively long period of time.
Haley Beaudry, a former external affairs manager for CFAC now working as a consultant on the proposal, confirmed as much in an interview last week. Beaudry and Hansen described the last two years as an ongoing, intermittent discussion between Bonneville and CFAC officials on ways to restart the facility. Beaudry also confirmed that there was no single "tipping point" in negotiations, but that the contract's length is attractive.
"I think there was no long touchdown pass; this was two yards and a cloud of dust," Beaudry said. "I know that the length of the contract - the four-and-a-half years - was important."
Restarting operations at CFAC entails much more than simply flipping a switch, with processes that can take up to six months before aluminum production begins, according to Beaudry, so a two-year contract, for example, didn't make sense. Global mining and commodities trading company Glencore International AG owns CFAC.
Beaudry cautioned that a deal is far from done. Bonneville still has to finalize the findings in its equivalent benefits test and conduct an environmental analysis. It is taking public comment through the end of August on the proposal. Then Glencore executives will determine whether it makes sense from a business standpoint. And even if everything works out, it's unlikely CFAC would restart operations during winter, so spring could be the earliest production resumes.
But he conceded this is the farthest toward reopening either parties have advanced at any point in the last two years.
"We haven't reached this step until now," Beaudry said. "It is much more encouraging than it has been."
News of the proposal was met with encouragement and pressure from Montana's senators to advance the deal.
"Montana jobs rely on this proposal which is why I've been pressing BPA and Glencore to finalize an agreement," Sen. Max Baucus, D-Mont., said in a statement. "I've also urged Glencore to consider rehiring workers laid off from CFAC as they work through any deal to reopen the company."
"Reopening the CFAC plant would bring back much-needed good-paying jobs," Sen. Jon Tester, D-Mont., said in a statement. "We've been down this road before only to be frustrated. It is time for CFAC and BPA to finalize this agreement and I will keep pressing all sides to get something done."
Beaudry urges Northwest Montana residents to weigh in on the proposal with Bonneville during its public comment period. People from all over the U.S. will likely comment, and Beaudry wants to make sure the opinions of Montanans are represented. The public can enter comments on BPA's website at www.bpa.gov/comments or mail them to BPA, P.O. Box 14428, Portland, OR 97293-4428.
"When this plant is running it has a very, very large positive effect on the economy in the state of Montana," Beaudry said. "We'd all like to see that resume."
---
Dan Testa
Moving in the Right Direction
Flathead Beacon, August 8, 2011
---
See what you can learn
learn more on topics covered in the film
see the video
read the script
learn the songs
discussion forum