---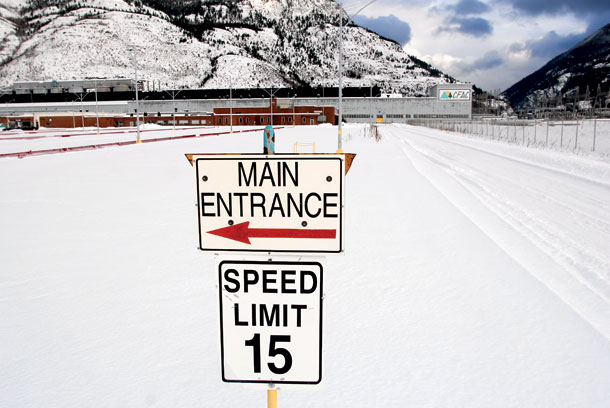 Don't write off the Columbia Falls Aluminum Co. smelter, three representatives of plant owner Glencore told local legislators and city representatives last week.
"The CFAC plant is not for sale," Matt Lucke said. "We're not ready to give up."
Lucke, Zach Mayer and Patrick Wilson met with Columbia Falls city councilors, city manager Susan Nicosia, state Sen. Dee Brown and state Rep. Jerry O'Neil on April 25 in the city council chambers.
Lucke acknowledged that Glencore planned to visit the plant in April to see if it was ready for a restart, and the visit happened to coincide with recent media reports about the plant possibly becoming a Superfund clean-up project. Lucke characterized the reports as "bad press and bad facts."
"What got it all started was a lack of communication by Glencore," mayor Don Barnhart pointed out. "Suddenly we were cut off -- that's what created all the angst."
Saying they couldn't fix what already happened, Lucke promised to provide locals with phone numbers and try to be more available.
"We're very frustrated, too," he said, noting the "conservative approach" the Bonneville Power Administration took toward contract negotiations in 2011.
Raw materials
A big factor in a restart decision is metal prices. Primary aluminum has been selling for about $1,900 a ton compared to $2,500 several years ago, Lucke said. Demand is high now in the 40 million ton global metal market, but the market is plagued by high inventory. He noted that China's smelting capacity has grown from about 1 million tons in the 1990s to about 22 million tons today.
Lucke also put down the idea that the CFAC plant is too run down to restart. Other smelters around the world shut down for years and restarted. He acknowledged that CFAC uses old smelting technology and that an upgrade would be cost-prohibitive, but he noted that the plant restarted after completely shutting down during the 2001 West Coast energy crisis.
With the alumina off-loading facilities in Everett and Vancouver, Wash., no longer available to CFAC, Lucke said Glencore has looked into shipping facilities in Portland, Ore., and Longview, Wash.
"Finding ways to move commodities, that's what Glencore is good at," he said, noting that weak smelters around the world don't have Glencore's trading network behind them.
An example of Glencore's strength as a global trader is its 2007 acquisition of the Sherwin Alumina Co. alumina refinery in Corpus Christi, Texas. The 50-year-old former Reynolds Metals plant can convert 3.5 million tons of bauxite into 1.4 million tons of smelter-grade alumina a year.
Alumina from the Corpus Christi plant could be shipped by rail to CFAC. Lucke noted that some aluminum smelters in China and India are also far away from alumina supplies.
"We compete in a global market," he said. "The BPA power deal is the big change."
Contracts
Mayer pointed out that BPA's preference power rate is half the rates found in Europe. The current offer is for nine years, when previous offers had been four or five years. A window opened in 2011, Mayer explained, but BPA requested a full-blown National Environmental Policy Act review. In the meantime, metal prices fell.
"We need to strike when the iron is hot," Mayer said.
The NEPA process is now mostly completed. Lucke said he doesn't anticipate any problems getting a BPA contract signed. He also noted that the new BPA administrator, Bill Drummond, from Montana, "is a reasonable guy" to work with.
Mayer said former CFAC operations manager Robert Smollack and 10-15 workers have been "kicking the tires" at the plant to assess start-up costs.
Smollack said he and other contract workers started looking at critical electrical and mechanical equipment on March 15. So far, they found only minor issues, such as lubrication and preventative maintenance. The crew started up about 200 of the plant's 300 vehicles, many of which run on large batteries. Smollack said it could cost more than $200,000 to replace vehicle batteries.
He also said about 200 people are on a recall list and he didn't expect trouble finding enough skilled workers to run the smelter. CFAC can't compete with North Dakota for wages, he said, but many Montana workers in the Bakken oil patch want to come home.
Lucke said Glencore offered union workers a piece of the plant's equity in exchange for a pay cut, but they turned it down. A profit-sharing arrangement with a pay cut was put in place when CFAC started in 1985.
Clean-up
A Superfund clean-up investigation by the Environmental Protection Agency would put a "negative shadow over the plant" and be a big "distraction" to operations, Lucke said.
"We need the local community to support a restart," former CFAC spokesman Haley Beaudry said, noting that the plant needs to focus money and effort on operations, not a clean-up.
The EPA doesn't have to continue down the Superfund path, Lucke said. They could hand it off to the Montana Department of Environmental Quality, which CFAC has worked with for decades. He also noted that calling for a clean-up as a way to create jobs is "short-sighted."
The Glencore representatives would not provide a "drop dead" restart date when asked. The CFAC plant is a "swing" plant, operating at the whims of the market, and Glencore hedges its trades in the metals market.
"We want to watch all the variables, and when they all come together, we need to move quickly," Lucke said. "Our goal is to be well positioned when everything comes together."
One sure sign for locals would be seeing rail cars delivering alumina, petroleum coke, coal tar pitch and other raw materials to the plant. Right now, the storage silos and tanks are empty.
---
Richard Hanners
Glencore Looks Forward to CFAC Restart
Hungry Horse News, May 1, 2013
---
See what you can learn
learn more on topics covered in the film
see the video
read the script
learn the songs
discussion forum