---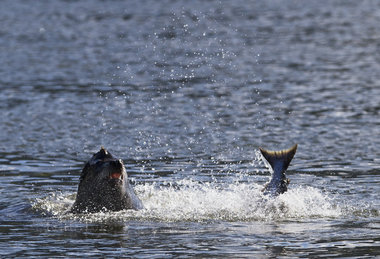 The National Oceanic and Atmospheric Administration gave permission Friday for Oregon and Washington to resume removing or killing California sea lions at Bonneville Dam, six months after a federal appeals court struck down a similar permit.
NOAA Fisheries said it believes it has addressed court-specified flaws in the nation's first sea lion lethal-take permit issued three years ago.
Under that permit Oregon and Washington killed or removed 37 California sea lions that swam upriver to eat migrating spring chinook salmon as the fish bunched up below Bonneville.
The California sea lion population is estimated at a healthy 238,000 while wild Columbia River spring chinook salmon are listed as endangered. NOAA and the federal agencies which operate Columbia and Snake river dams are under intense pressure to protect and restore salmon and steelhead runs.
The Humane Society of the United States, which successfully challenged the first permit before the 9th Circuit Court of Appeals, said it needs to study NOAA's 8-page authorization letter and 42-page decision memo before deciding whether to go to court again.
The Oregon Department of Fish and Wildlife, which expected the authorization two months ago, said it is prepared to capture and euthanize California sea lions next week.
"Everybody's been ready to go since mid-March," said Robin Brown, ODFW's marine mammal program manager who has been trapping and branding sea lions at Bonneville all spring. "The traps are out there. The veterinarians are ready to go."
Although the new authorization allows shooting of problem sea lions, Brown said restrictions and negative publicity means the "likelihood of that isn't very good." Oregon and Washington previously trapped and transferred 10 sea lions to aquariums and zoos, but Brown said no NOAA-approved facilities have requested animals this year.
Increased numbers
Spurred by a growing population and a ready source of fish, greater numbers of California sea lions started showing up at Bonneville's fish ladders in 2002. Their numbers counted by observers between January and June ranged from a low of 30 in 2002 to a high of 104 in 2003, with 89 observed in 2010. Only 50 California sea lions have been observed so far this year, the fewest since 2003.
Steller sea lions, which Oregon, Washington and Alaska are seeking to get removed from a federal list of threatened species, have nearly equaled the number of California sea lions below Bonneville.
Concerned about the impact on endangered salmon, Oregon, Washington and Idaho won NOAA's permission in 2008 to begin trapping and removing California sea lions specifically identified as the most voracious and which do not respond to non-lethal hazing. Idaho dropped out of the program this year.
In 2008 the states trapped and gave six California sea lions to zoos and aquariums, one died under anesthesia and one died in a trap. In 2009 four sea lions went to zoos and 11 were euthanized. Last year 14 sea lions were euthanized, none going to zoos.
Using data from its observers, the Corps of Engineers estimate California sea lions at Bonneville ate a low of 1,010 Spring chinook in 2002 to a high of 5,095 in 2010. Depending on the size of the entire run, California sea lions ate from .36 percent to 4.17 percent of Spring chinook passing the dam.
The Humane Society challenged the permit saying NOAA did not show why it was targeting sea lions for removal while allowing sport, commercial and tribal fisheries to take up to 17 percent of the Spring chinook run. Last November, the 9th Circuit Court of Appeals stopped the authorization until NOAA could explain the discrepancy.
In the decision released Friday, NOAA regional director William Stelle said new data suggest sea lions are eating nearly 13 percent of salmon in low-return years and that a researcher last year found sea lion injuries on 29 percent of returning salmon. NOAA also argued that the court of appeals mixed requirements of two other federal environmental laws with the Marine Mammal Protection Act, saying it "does not require that predation be comparable to all other sources of mortality."
Instead, Stelle said, the act allows his agency to balance "the management of and conflict between two species."
"This is not an easy decision for our agency to make, but a thorough analysis shows that a small number of California sea lions preying on salmon and steelhead are having a significant effect on the ability of fish stocks to recover," Stelle said in a statement.
Unlike the first permit, the new one would also allow killing sea lions above Bonneville Dam.
Sharon Young, the Baltimore-based marine issues field director for the Humane Society, said her group still feels that removing a small number of sea lions at Bonneville "isn't going to affect the number of fish eaten."
"Some were killed last year and none were killed this year but the predation rates are the same," she said. "This still won't do much to help recover fish. Addressing hatchery and harvest reform and predation by non-native fish will."
Since 2008 the states have developed a list of 78 California sea lions eligible for killing, but Brown said about 30 of those have been spotted below Bonneville this year. Because fewer California sea lions are present this year and many of those are starting to leave to begin breeding, Brown estimates his crew would be able to euthanize "two or three to 10" animals if given the go-ahead.
"Although the numbers are down, there are still sea lions around and they're still killing fish," he said.
---
Quinton Smith
Sea Lions to Be Killed for Eating Endangered Fish
The Oregonian, May 13, 2011
---
See what you can learn
learn more on topics covered in the film
see the video
read the script
learn the songs
discussion forum