---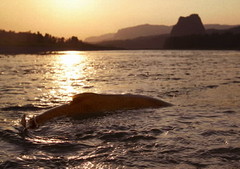 As farmers in eastern Oregon who are struggling, like many, to make it through these tough economic times, we couldn't be more disappointed in Gov. Ted Kulongoski's recent commentary in The Oregonian ("Another flawed plan to protect salmon," Oct. 9).
We, like all Northwest families and businesses, are paying for the significant investments that are being made in the federal hydroelectric system to help endangered salmon and steelhead. Nearly 15 to 20 percent of our irrigation electric bill already goes to these efforts, and in the farming business that much can make or break us every year.
The Obama administration, as the governor noted, recently undertook an exhaustive review of measures in the latest federal salmon plan, including the hydro system measures, and found the plan to be both legally and scientifically sound. Their scientists and findings should be taken very seriously and not dismissed.
We're concerned about statements made concerning dam breaching, and are aware the governor also supports drawing down the reservoirs behind the dams despite highly questionable benefits for fish and huge impacts on farmers, ports and jobs. Kulongoski suggests that Oregon's proposals would not curtail power production or drive up power costs, but that's not the case. If the reservoirs are drawn down and irrigation pipes are left high and dry, how will that not have a huge impact? Costs to mitigate for this action at the dam at John Day are estimated at $200 million, and we've not seen the science that shows any benefits for fish.
In a state that has one of the highest unemployment rates in the United States -- at about 12 percent and even higher in rural parts of the state -- it's hard to believe the governor thinks that not enough is being done to help salmon and that such actions are warranted. This is particularly true when we see the incredible returns of fish this year, with records or near records being set for several fish species.
It would seem that the actions being taking are working, and the new salmon plan, with even more measures and costs, should be given a chance to work. This is certainly true before calling for draconian solutions such as dam breaching or reservoir draw-downs that probably won't help the fish, but surely will hurt the people of this region.
If the governor truly wants to help Oregon's communities and salmon, he could begin by bringing some common-sense leadership to this issue, stop litigating and join with the vast majority of states, tribes and people who rely on the Columbia and Snake Rivers like we do in support of moving forward with the new salmon plan.
---
Vern Frederickson and Gary Frederickson operate Frederickson Farming near Boardman.
Columbia Salmon Plan is Legally and Scientifically Sound
The Oregonian, October 15, 2009
---
See what you can learn
learn more on topics covered in the film
see the video
read the script
learn the songs
discussion forum