---
30,000 acre feet for the East Columbia Basin Irrigation District,
which in turn will hydrate up to 10,000 acres of farmland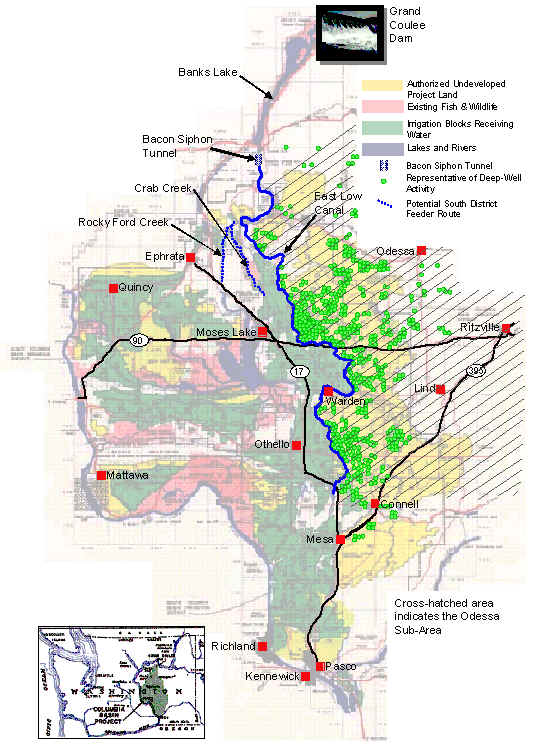 OLYMPIA - The Washington Department of Ecology has issued final decisions that pave the way for more water to be made available to cities and industry along the Columbia River and replace groundwater currently pumped from the Odessa Subarea aquifer.
The decisions also call for more water to be released in support of fisheries below Grand Coulee Dam. Two "reports of examination" were delivered on Thursday, Sept. 25, to Bill McDonald, the federal Bureau of Reclamation's Pacific Northwest regional director. Ecology's decisions outline how 82,500 acre-feet of water from Lake Roosevelt will be distributed throughout the central Columbia Basin. Issuing the documents triggers a formal 30-day appeal period.
The state is working in partnership with Reclamation to bolster municipal and industrial supplies, provide replacement water to farmers in the Odessa Subarea where aquifers are declining and provide stream flow enhancements for fisheries.
Gov. Chris Gregoire said, "For more than a decade, we've been at a stalemate. The hope of new water development has been stalled in litigation or buried in bureaucracy... we have broken that stalemate. We are writing a new chapter on how water will be managed in the West. We're making sure water is there when it's needed most - for people and fish."
Bill McDonald said, "Reclamation looks forward to continuing our work with Ecology to provide additional water from Lake Roosevelt. We will now be able to proceed with the development of contracts for the delivery of this water - the first new contracts we've seen in a number of years."
The decisions represent the first allocation from a total of 132,500 acre-feet of water the state proposes to release from Lake Roosevelt as part of the Columbia River Basin Water Management Program's goal of developing new water supplies in the region. Details of the plan are addressed in a final supplemental environmental impact statement released in August.
Ecology Director Jay Manning noted the program will meet four critical water needs: providing an alternative water supply to farmers currently relying on the failing Odessa Aquifer; providing water to more than 100 cities and towns up and down the Columbia, some of whom have been waiting for water for decades; providing drought protection water to farmers; and providing critical flow increases for salmon during low-flow periods.
"Since 2001, there's been a drought somewhere nearly every year," Manning said. "We know our climate is changing. It is only prudent that we do everything we can to protect our farm economy, meet our obligation to our towns, and do everything we can to protect and restore Columbia River fisheries so emblematic of our region."
Last week's decisions authorize the release of 52,500 acre-feet of water to the Columbia River. Of that amount, 27,500 acre-feet is permanently set aside in support of stream flows. Annual water releases of up to 25,000 acre feet are designated to offset future municipal and industrial supply - translating to enough water to support up to 75,000 new homes.
The decisions also authorize 30,000 acre feet be designated for delivery to the East Columbia Basin Irrigation District, which in turn will hydrate up to 10,000 acres of farmland now relying on groundwater from the declining Odessa aquifer for irrigation.
Future components of the program call for the development of a "drought insurance" program for interruptible water-right holders, providing them a way to use water when their rights would otherwise be curtailed. Some 379 water rights faced shut-off during the 2001 drought.
The Lake Roosevelt Incremental Storage Release Program designates 33,000 acre-feet to be made available to interruptible water right holders and an additional 17,000 acre-feet of water to augment flows during years of drought.
Legislation passed in 2006 created the state's Columbia River Water Basin Management Program, which is tasked with pursuing new water supplies from the Columbia River for both instream and out-of-stream benefits. The program has been reorganized as the Office of Columbia River, and is based in Wenatchee. More information on the decisions is available online at www.ecy.wa.gov, click on the Columbia River Water Management icon in the upper right hand corner of the page.
Relate Sites:
Columbia Basin Development League
Relate Pages:
Columbia Basin Irrigation Project-The Second Half Wheat Life, November 2004
---
Staff
New Water Releases to Hydrate Odessa Aquifer Farmland
Ritzville Journal, October 9, 2008
---
See what you can learn
learn more on topics covered in the film
see the video
read the script
learn the songs
discussion forum