---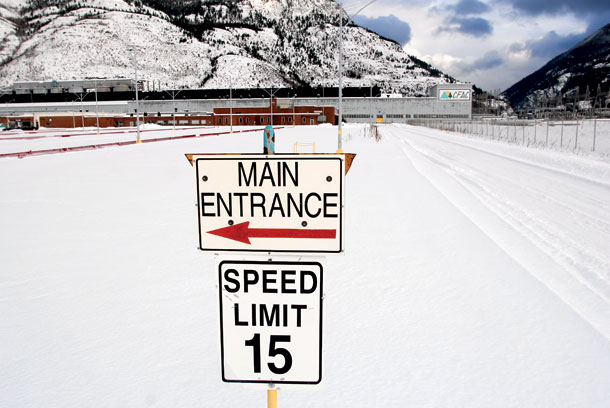 Acknowledging they "need to do a better job of communicating," the owners of Columbia Falls Aluminum Co. gave the Flathead County commissioners a status report Wednesday about the prospects of restarting the mothballed plant.
The crux of their message: There is still hope that the plant will one day reopen.
Glencore, the Swiss-based parent company of CFAC, flew three representatives to Kalispell to join an entourage of other plant supporters for a goodwill blitz that included meetings with the commissioners, city of Columbia Falls officials and a video conference with Montana Sens. Max Baucus and Jon Tester.
Matt Lucke of Glencore said the presentation was prompted by recent negative press reports. Elected Montana officials have been critical of Glencore, alleging the company has been merely stringing the community along with no intention of restarting the aluminum plant that has been closed since 2009.
Tester has been particularly outspoken about his feelings toward Glencore, saying the company only cares about maximizing profits. Both senators pushed the U.S. Environmental Protection Agency to study contamination at the plant, and the federal agency earlier this month agreed to conduct an assessment at the 120-acre site near the Flathead River north of Columbia Falls.
While the demand for aluminum is good, there's a glut on the supply side, Lucke said.
Even though the price of the metal has been weak for five years because of a global glut of aluminum, China is still producing record amounts of the metal.
A world news website noted stockpiles of metals in Chinese warehouses hit a record high in late February.
"We've seen bankruptcies and shutdowns" of aluminum plants in several countries, he said. "It's challenging. We're faced with a difficult environment."
Zach Mayer, another Glencore representative, said the power side of the aluminum industry is looking brighter.
"We're in a better position today than we have been in for some time," Mayer said.
He pointed to a nine-year deal on the table right now with Bonneville Power Administration.
"We think we're headed in the right direction," Mayer said. "This could help us restart."
A dramatic increase in shale gas production has "changed the landscape" in the power industry, allowing BPA to give Glencore a better proposed deal.
The two entities almost had a deal for a four-year power contract in 2011. Aluminum prices began improving, so Glencore ramped up discussions with BPA, Mayer said, but a required National Environmental Policy Act review bogged down the process. By the time the review was underway, aluminum prices dropped again and no deal was ever reached.
But now, "we're quite optimistic from the power perspective," Mayer said. "It all hinges on metal prices. Multiple markets need to come together at the same time. We're constantly monitoring it."
Steve Wright, CFAC's environmental manager and the only remaining paid employee at the plant, pointed out that EPA conducted a site review of the plant property in the late 1980s and didn't find any alarming environmental hazards.
The federal agency will be at the plant the first week in June for a site visit and is now going through copious amounts of old plant records.
"We'll see where the EPA's analysis ends up," Wright said.
Haley Beaudry, former external affairs manager for CFAC, is no longer on the plant's payroll, but he and former operations manager Robert Smollack -- also no longer a paid employee -- have spent a considerable amount of time working on the plant's behalf to get it reopened.
Smollack said 200 workers are on a recall list if the plant comes back to life. He stressed the economic impact a major employer such as CFAC has had on the Flathead Valley and would continue to have if it restarts.
"This movement to force it to a Superfund site is one of the worst things that can happen," he said. "Glencore has invested time and money to keep the plant ready for restart."
Beaudry agreed, noting CFAC has always provided good jobs and had a quality work force. He said community support for the plant will be crucial as Glencore works toward restarting the potlines.
"The pin has been pulled" for EPA's site review, "so EPA has to run the course," Beaudry said. "One impact they'll look at is community support for restarting."
He said he believes the EPA won't find anything at the plant site it didn't find in the 1988 inspection.
"Rules and measurements change, but we should be OK," he said.
---
Lynnette Hintze
Glencore Still Hopes to Reopen CFAC
Daily Inter Lake, April 25, 2013
---
See what you can learn
learn more on topics covered in the film
see the video
read the script
learn the songs
discussion forum