the film
forum
library
tutorial
contact

Hastings Introduces Bill to Streamline Process
to Lethally Remove Salmon-Eating Sea Lions


by Staff
Columbia Basin Bulletin, March 11, 2011
---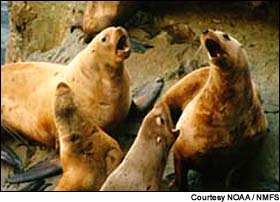 U.S. Rep. Doc Hastings, R-Wash., on Wednesday introduced legislation aimed streamlining the process for states and tribes to gain federal permission to lethally remove California sea lions that prey on protected Columbia and Snake river salmon stocks that are listed under the Endangered Species Act.
Co-sponsors of the proposed Endangered Salmon Predation Prevention Act are Washington Reps. Norm Dicks, a Democrat, and Jaime Herrera Beutler, a Republican, and Oregon Republican Greg Walden.
The bill was referred to the House Committee on Natural Resources, which Hastings chairs.
"As Northwest residents spend hundreds of millions of dollars each year to protect salmon, California sea lions camp out at Bonneville Dam and gorge themselves on endangered fish," said Hastings. "With all other methods exhausted, lethal removal of the most aggressive sea lions is often the only option left to deter predation, help protect endangered salmon and recoup more of our region's substantial investment in salmon recovery."
Tribal leaders expressed strong support for the bill introduced by Hastings. The legislation would provide an important set of management tools to address alarming predation levels by California sea lion, according to a press release from the Columbia River Inter-Tribal Fish Commission. Portland-based CRITFC is the technical support and coordinating agency for fishery management policies of the four treaty tribes.
A key amendment would allow the tribes, as eligible entities, the ability to pursue lethal take authority. As Section 120 now reads, only states can seek that authority.
"Tribal members remember a time where balance existed in a healthy and functioning environment," said Bruce Jim, CRITFC chairman. "The predation of salmon by sea lions is an impact that can't be ignored."
If the proposed legislation is passed by Congress it would accelerate the process for granting lethal take authority. First it would put the Secretary of Commerce on a 90-day clock to determine whether alternative measures to reduce sea lion predation "in the waters of the Columbia River or its tributaries listed as threatened species or endangered species under the Endangered Species Act of 1973 adequately protect the salmonid stocks from California sea lion predation." If not, the proposed amendments to Section 120 would hold sway.
An eligible entity could then apply to the secretary for a permit for temporary lethal take authority and get an answer within 30 days, if the amendment is approved. An application for lethal take authority submitted by Idaho, Oregon and Washington in December 2006 took nearly 1 ½ years to process under existing Section 120 guidelines.
The new Section 120 rules would allow issuance of a permit every 14 days to any eligible entities for the removal of 10 pinnipeds. The cumulative number of California sea lions authorized to be taken each year under all permits in effect would not exceed one percent of the annual potential biological removal level of California sea lions, which according to recent estimates would be about 85.
Any permit would be effective for no more than one year after the date it is issued.
Predation by California sea lions on threatened and endangered salmon populations has long been a concern for the tribes and states. After a long history of only visiting the base of the Columbia's Bonneville Dam in small numbers, the 126-mile trek started to become more commonplace around the turn of the century. Their late winter-spring presence as grown, as has their consumption, with some ebbs and flows.
In 2010 California sea lions consumed 5,095 salmonids immediately below Bonneville Dam. That number includes only daytime take observed from the dam. State and tribal biologists estimate that overall, 20 percent of the spring chinook run is killed by sea lions in the river from the mouth up to Bonneville, according to CRITFC.
"The legislation introduced by Chairman Hastings is an important step in protecting the investments that the tribes, states, and federal government have made in Columbia Basin salmon recovery," said Paul Lumley, executive director of CRITFC. "The tribes are dedicated to working with our state and federal partners to ensure that the region's salmon populations are given every chance to recover."
Despite dramatic population increases in recent decades, sea lions enjoy strong federal protection making it virtually impossible to remove them, Hastings said.
The congressman said his decision to renew his push for this legislation comes on the heels of an announcement by NOAA Fisheries that it would not appeal a ruling by the Ninth Circuit Court of Appeals that now blocks the states from implementing the lethal take authority approved by the federal agency in March 2008. NOAA Fisheries said instead it would consider whether to attempt to address the appellate court's concerns about the lethal take decision and, potentially, issue a new decision.
Hastings introduced similar legislation late in 2006. It stalled, however, in committee and never came to a vote.
If approved, the changes outlined in the legislation would probably not go in to effect until 2012.
For more information on sea lion predation at Bonneville Dam visit the CRITFC's sea lion page www.critfc.org/sealion/sealion.html. This website provides links to a fact sheet, video of predation, hazing activity, and photos of damage done to migrating salmon by sea lions.
Related Pages:
Hastings Makes Another Run After Gluttonous Sea Lions by Kyung M. Song, Seattle Times, 3/8/11
---
Staff
Hastings Introduces Bill to Streamline Process to Lethally Remove Salmon-Eating Sea Lions
Columbia Basin Bulletin, March 11, 2011
---
See what you can learn
learn more on topics covered in the film
see the video
read the script
learn the songs
discussion forum