---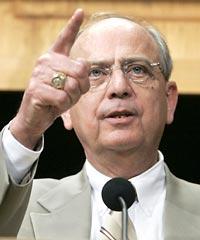 Republican Rep. Doc Hastings says any criticism of his environmental record is off base for one reason: He's spent his entire career in Congress trying to clean up a massive nuclear dump in his central Washington state district.
"If you can't say that is being environmentally sensitive, then I don't know what your definition of environmentally sensitive is. ... When people try to characterize me as being against the environment, I honestly have to shake my head," he said in an interview.
Last week, as Republicans formally took control of the House of Representatives and Hastings became a new face of power on Capitol Hill, there were both cheers and fears. As Hastings took the gavel as chairman of the House Natural Resources Committee, environmentalists braced for the worst, while business interests applauded.
His record as a 16-year House member has been polarizing: In 2009, Hastings received a score of zero from the League of Conservation Voters, and he has a lifetime rating of 96 from the U.S. Chamber of Commerce.
"On environmental issues broadly, he's really just about one of the worst, easily," said Leda Huta, the executive director of the Endangered Species Coalition.
Hastings, a 69-year-old former paper executive, is regarded as a particularly close ally of the oil and gas industry, which gave him than $84,000 during the 2010 election cycle, ranking as his top contributor, according to the Center for Responsive Politics.
Hastings voted against a plan to reduce greenhouse gas emissions and against proposals to create more federal wilderness and conservation areas. He also opposes the Endangered Species Act.
"It's well-known that his scores on environmental issues broadly are not good," said Tom Uniack, the conservation director of the Washington Wilderness Coalition.
Business interests couldn't disagree more.
"I can tell you we are excited about him taking over the committee, and think he'll do an outstanding job," said Dan Naatz, vice president of federal resources at the Independent Petroleum Association of America.
At a fundraising breakfast hosted by the oil and gas industry at the Capitol Hill Club last spring, individuals were asked to pay $500 a head to meet with him.
Naatz said Hastings "understands the challenges that Western states in total face" with the use of public lands.
"Certainly there are areas that should be single-use only: national parks and wilderness areas," Naatz said. "But the vast majority of the federal lands in the West are designed for multiple use. Oil and gas production is one of those, in addition to recreation, agriculture and timber production, and Mr. Hastings has long been an advocate of that."
John Stuhlmiller, the director of government relations with the Washington Farm Bureau, said Hastings will be "a champion" for Western states.
"We're excited, frankly, about it. ... He's our guy," Stuhlmiller said. "He's representing our state, and we're very encouraged by that. We're just anxious to see how things start moving in Congress."
While his committee hasn't even yet met, environmental groups fear that Hastings' panel will open up more federal land for development and push aggressively for more offshore oil drilling, among other things.
"It's pretty dismal," said Bill Arthur, the deputy national field director for the Sierra Club, describing Hastings' environmental record.
Huta, of the Endangered Species Coalition, said the 2010 election was none too good for animals on the verge of extinction. And she feared that the Natural Resources Committee would move soon to weaken protections for endangered species.
"It'll be a busy year for endangered species advocates," she said. "Doc Hastings is not someone who appears to have a conservation ethic. He's coming at this from a completely different perspective."
In the interview, Hastings reiterated his opposition to the Endangered Species Act.
"I can tell you that I have been a critic of the Endangered Species Act since I got here," Hastings said. "None of that has changed. But we have to look at things we can accomplish."
Hastings said that trying to roll back the Endangered Species Act this year "is not necessarily high on my list of to-dos," because of opposition from President Barack Obama. But he isn't ruling it out.
In 2005, Hastings voted for a measure that would have eliminated the law's requirements to set aside habitat considered critical to the survival of animals or plants facing extinction. The measure also would have tightened timelines for federal agencies to make decisions involving protected species and required that landowners be compensated if their land use was restricted in an attempt to revive an endangered species.
At the time, Hastings said that "for people of the rural West, there could be few more important issues than modernization of the Endangered Species Act." He lamented the protection of the spotted owl, saying that thousands of timber industry jobs were lost in the Northwest because of it.
Arthur, of the Sierra Club, said that Hastings' instincts on environmental issues "will be to not be particularly helpful." But he said that as a committee chairman, Hastings is in a new position and will have to "work and play well" with senior appropriators on the other side of the aisle.
"He comes from a district that has one of the single most polluted sites on the planet: the Hanford Nuclear Reservation," Arthur said. "While he is very conservative, there are things that matter in his district. ... His district needs a lot of appropriations."
Stuhlmiller, of the state farm bureau, said he's hopeful that Congress will make changes to the Endangered Species Act, which he said has resulted in too many regulations for property owners. And he'd like to see the new chairman press for changes that would allow ranchers and farmers to use more federal land.
"When the livestock get fattened on that public ground, it helps feed the world," Stuhlmiller said.
In the interview, Hastings offered few specific plans for his committee, saying it's still too early.
Hastings said he expects to hold oversight hearings into the oil spill in the Gulf of Mexico and other topics, contending that Congress has been negligent in not doing enough oversight. He said those hearings, depending on what topics they target, could lead to specific legislation.
"My focus is going to be the oversight and whatever opportunities come from that oversight," he said.
---
Rob Hotakainen
Environmentalists Fear Hastings Will Take Care of Business
Kansas City Star, January 9, 2011
---
See what you can learn
learn more on topics covered in the film
see the video
read the script
learn the songs
discussion forum