---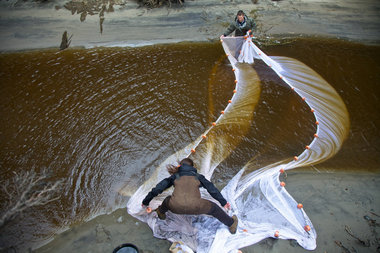 CHINOOK, Wash. -- This winter, restoration workers punched a 12-foot concrete culvert through the rock rip-rap that lines the Columbia River near the ocean and waited for fish to hit wetlands walled off for a century.
They didn't have to wait long.
On March 15, the first check, biologists counted 20 juvenile salmon. On April 29, the count totaled 723, mostly chinook and chum.
That's the kind of success story operators of the Columbia basin's federal hydropower dams need a whole lot more of. Their 10-year dam operations plan, under the skeptical eye of U.S. District Judge James A. Redden, banks heavily on habitat improvements to bolster seven threatened runs of wild salmon and steelhead that begin life above Bonneville Dam.
It's likely the biggest restoration effort in the nation, from the Columbia's mouth to tributaries deep into eastern Oregon, Idaho and Washington. If it works, it could help lift the fish off the endangered species list, dim the spotlight on dams and reduce demands for Snake River dam removal.
But translating the effort into hard fish survival numbers that will satisfy the court is another story.
The government's plan predicts specific increases in fish survival, even though it's notoriously tough to measure benefits of habitat changes. Projects take a long time to put together and, in many cases, a long time to bear results. And the work is off to a slower than expected start.
If it doesn't pay off, the region risks losing ground on its thin runs of wild fish.
***
The culvert near Chinook, just east of the Astoria-Megler Bridge, shows the pitfalls and promise of habitat work.
Wetlands provide a truck stop for young fish migrating to the ocean, a feeding spot that's sorely lacking on the lower river.
It also took six years to execute the $950,000 project. Along the way, townspeople in Chinook vetoed a larger project because of concerns about flooding. And the full 96 acres of wetlands won't be available until tidewaters carve new channels.
"These projects are hard to pull off," agrees Matt Van Ess, habitat restoration coordinator with the Columbia River Estuary Study Taskforce, which spearheaded the job.
But new expert panels are helping single out projects that get the most bang for the buck, Van Ess says.
And extra money from the Bonneville Power Administration, which sells power from the dams, has dramatically increased the work -- BPA plans to spend at least $45 million a year on habitat projects through 2017.
Accords with five Northwest tribes and the state of Washington added hundreds of millions more for habitat improvements for a decade.
The reliability of that cash allows the region to string together larger, more effective projects, not just "postage stamp" efforts that happen to be convenient, says Bob Rose of Yakama Nation Fisheries.
"We can really prioritize," he says. "That is so fundamentally different now."
***
The job is a big one: Biologists estimate 90 percent of the basin's salmon and steelhead habitat has been lost or degraded.
And BPA and the Army Corps of Engineers are behind original projections for habitat work from 2007 to 2009.
In the lower Columbia and its estuary, where salt and fresh water mingle, they delivered only a quarter of the survival benefits expected for those years. Through 2018, the plan before Redden pledges up to 9 percent estuary survival increases.
(bluefish: Sockeye spend little time in the estuary and thus survival benefits are expected to be only slight.)
In tributaries, initial reports show benefits lagging for just under half the populations measured. The plan before Redden promises double-digit habitat survival increases for 11 of the 77 tributary populations tracked by 2018.

Plaintiffs in the salmon lawsuit, including Oregon and the Nez Perce, say habitat work should come on top of more surefire dam improvements, from increased spill and flow to drawing down reservoirs.

"If they're not delivering now, how can anyone expect they're going to deliver on the even bigger promises they're hanging their hat on?" says Steve Mashuda, an Earthjustice attorney representing conservation groups.

BPA and Corps officials plan to catch up on the promised habitat work by 2013. They've contracted for hundreds of projects, their lawyers say, from stream restoration to buying water rights. If projections pan out, by 2013 they'll hit tributary habitat improvement targets for 2018 for a third of the populations.

In part, delays came from tapping specialists to scrutinize project proposals, BPA says. The plan before Redden locks in performance targets for habitat, says Steve Wright, BPA's administrator, and expert panels will hold the agency accountable.

"There's a lot of incentive to get this right," he says.

Dam improvements are already extensive, he says, and BPA can't justify the costs to ratepayers of ambitious habitat work if it doesn't get legal credit.

***

Restoration workers haven't been sitting on their hands. Since 2005, they've opened up more than a thousand acres of estuary floodplain, for example, and revamped more than 5,000 acres of often denuded streamside.

For wild spring chinook in Idaho's upper Pahsimeroi River, restoration has increased spawning and may have already created the 41 percent habitat improvement projected in the 10-year plan, an initial review found.

"A federal judge has every right to be skeptical," says Mike Edmondson with the Idaho governor's Office of Species Conservation. "But when you look at what's happening on the ground, you sleep better at night."

The potential legal problem: The survival increases from habitat changes are just estimates -- there's no guarantee they'll actually boost wild fish populations. Problems from dam operations to warm streams to poor ocean conditions can defeat river habitat improvements for the far-ranging fish.

And biologists inside and outside government agree that scientific proof of survival benefits from habitat improvements is scant.

Habitat improvement is important, says Robert Hughes, a senior researcher with the Amnis Opes Institute in Corvallis.

"But frankly no one has been able to prove it's successful," he says. "Quite often fish just move from someplace else to the place you've improved."

The National Oceanic and Atmospheric Administration's Fisheries Service has boosted long-term research to connect productivity increases to habitat changes. Meantime, project selection will be steered by research that shows salmon thrive in certain habitat, such as sediment-free spawning gravel.

Redden is tuned in. In a hearing today, he wants attorneys to address whether survival projections are based on "independent, reliable and scientifically verifiable information."

Related Pages:
Salmon Wars Return to Portland Courtroom by Scott Learn, The Oregonian 5/7/11
Lawsuits Reshape the Columbia, Snake Rivers After ESA Lists Salmon, Steelhead by Quinton Smith & Scott Learn, The Oregonian 5/7/11

bluefish.org does the research handout provided at Federal Court's Closing Arguments by bluefish.org, 5/9/11
FEEDBACK: Snake River Sockeye Recovery Plan by Scott Levy, Columbia Basin Bulletin, 11/19/10

Breaching the Dams? by Peter DeFazio, Eugene Weekly, 5/3/11
DeFazio's Role in the Columbia Basin Salmon Crisis by Sheena Moore, Eugene Weekly, 4/21/11
Saving Salmon: Time to Get Out of the Courtroom and Into the River by Doc Hastings & DeFazio, The Oregonian, 3/11/11

---
Scott Learn
Habitat Restoration Soars on Columbia River, But Fish Benefits are Murky
The Oregonian, May 8, 2011
---
See what you can learn
learn more on topics covered in the film
see the video
read the script
learn the songs
discussion forum