---
Owner
Power Project
Power per Unit Flow
Value*
kilowatt-second
/cubic foot
kilowatt-hour
/acre-foot
Dollars
/acre-foot
Dollars
/400,000 acre-foot
Idaho Power
Swan Falls
1.7
20.6
$0.5
$206,000
Idaho Power
Brownlee
19.8
240
$6.0
$2,400,000
Idaho Power
Oxbow
7.6
92
$2.3
$920,000
Idaho Power
Hells Canyon
15
182
$4.5
$1,820,000
US Government
Lower Granite
6.9
83.5
$2.1
$835,000
US Government
Little Goose
6.9
83.5
$2.1
$835,000
US Government
Lower Monumental
7.0
84.7
$2.1
$847,000
US Government
Ice Harbor
6.9
83.5
$2.1
$835,000
US Government
McNary
4.9
59.3
$1.5
$593,000
US Government
John Day
7.3
88.3
$2.2
$883,000
US Government
The Dalles
5.5
66.6
$1.7
$666,000
US Government
Bonneville
3.7
44.8
$1.1
$448,000
_____
Total
_____
93.2
_____
1128.8
_____
$28.2
__________
$11,288,000
*Assumptions:
Assuming an average price of $0.025 / kilowatt-hour and that all water goes through turbines to generate electricity. This value estimate is a rough estimate as the value of electricity is strongly dependent on season and time of day.

Conversion Factors:
43560 cubic feet / acre-foot
3600 seconds / hour


Notice:
427,000 acre-feet of flow augmentation beginning at Idaho's Swan Falls Dam generates $12 million dollars worth of electricity. This $12 million splits close to evenly between Idaho Power ($5.7 million) and the U.S. Government's Bonneville Power Administration ($6.3 million).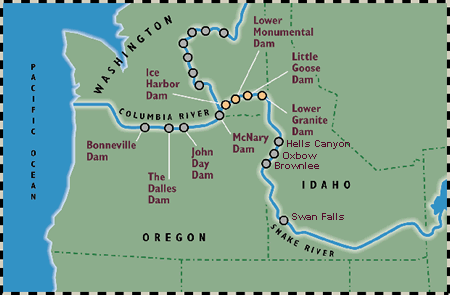 Related Pages:
Review of Lower Snake River Flow Augmentation Studies by Independent Science Advisory Board, April 27, 2001
---
Idaho Power & Bonneville Power Administration
Power from River Flow
From Interviews, data also available from Energy Information Administration
---
See what you can learn
learn more on topics covered in the film
see the video
read the script
learn the songs
discussion forum