---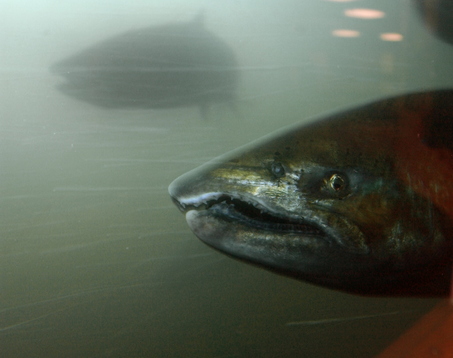 Elections of two new senators, a Democrat in Oregon and a Republican in Idaho, changes the dynamics of the Columbia and Snake River salmon debate.
Democrat Jeff Merkley's hair-thin victory over Gordon Smith in Oregon and Republican Jim Risch's replacement of Larry Craig in Idaho, sets the stage for a new regional forum that could resolve the salmon and dam debate that has gone on since the early 1990s.
Both men have expressed an interest in bringing all of the key players to a table to work out a solution that would restore salmon, including Idaho's four endangered stocks, and preserve the economic health of the riverside communities and the region.
Add the interest of Senate Majority Leader Harry Reid of Nevada, who also has become involved because of the historic runs of Snake River salmon into Nevada tributaries, and salmon advocates have the powerful ally needed to balance the voices of Washington's Democratic Sens. Patty Murray and Maria Cantwell. And in Idaho the election of Democrat Walt Minnick and the continued interest in a collaborative solution by Sen. Mike Crapo and Mike Simpson, shifts the discussion.
No longer do no-dam-removal-under-any-circumstances leaders Larry Craig and Bill Sali stand in the way of a new round of talks. Chris Wood, chief operating officer of Trout Unlimited and a big fan of Risch's process for writing an Idaho roadless plan is one national environmental leader ready to talk.
"Never before has there been a better time to create a regional forum so people of the Northwest can directly influence how to recover the upriver stocks while making the affected communities whole," Wood said. "This may be the last best chance to recover salmon and make communities a part the solution."
Make no mistake, none of these political leaders have endorsed breaching the four dams in Washington on the lower Snake River that most scientists say is the best and perhaps only way to restore Idaho's salmon. Risch, Reid, Merkley, Minnick and even Simpson have said they wouldn't rule it out.
President-elect Barack Obama's campaign staff told me during the campaign that he believes all efforts to restore salmon habitat short of breaching dams should be exhausted first.
"Implementing a meaningful salmon population recovery plan will be a key environmental priority of my administration, and I support efforts to create a salmon recovery plan that balances all of these important environmental, agricultural and renewable energy interests," Obama said in a statement.
Environmentalists were frustrated that dam removal was taken off the table by President Bush in 2001. But elections count.
Now there is a new mandate for all of the vast interests involved throughout this watershed to come together and seek a solution. The successful talks between the federal agencies, the states of Washington, Idaho, Montana and all of the region's Indian tribes except the Nez Perce, lay the groundwork.
In the beginning was the Nez Perce water rights agreement, which brought Idaho's water users together with the Nez Perce tribe on an agreement that protected water rights and increased salmon restoration efforts. Norm Semanko, executive director of the Idaho Water Users Association underscores the new political reality with his comfort that Risch, Crapo and Simpson won't trade away Idaho's interests.
"You've got someone with a proven interest and understanding of the issue," Semanko said of Risch. "That's a big plus for all of us. We as a water user community have always been interested in talking."
U.S. District Judge James Redden will lay out the ground rules as he decides early in 2009 on whether the Bush Administration's latest biological opinion is legal. But salmon recovery was never going to be decided in court.
It had to go to Congress. Now there are people there committed to finding a solution for everyone in the region.
Related Pages:
Sali and Minnick Clash Over Stance on Salmon and Dams by Rocky Barker, Idaho Statesman, 10/17/8
---
Rocky Barker
Election Sets the Stage for Regional Forum on Salmon and Dams
Idaho Statesman, November 11, 2008
---
See what you can learn
learn more on topics covered in the film
see the video
read the script
learn the songs
discussion forum