---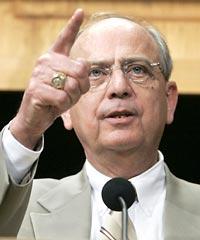 KENNEWICK -- Rep. Doc Hastings plans to introduce legislation related to Hanford's historic B Reactor and Rattlesnake Mountain this year.
But any bill related to breaching the Snake River dams will not see the light of day now that he is chairman of the House Natural Resources Committee, he said.
The Republican representative was in the Tri-Cities on Wednesday, where he toured the Areva NP nuclear fuel plant in Richland and spoke to the Pasco-Kennewick Rotary Club.
The No. 1 issue he hears about from constituents is the fiscal health of the federal government, he told the Rotarians. The nation will not be able to get its fiscal house in order without tackling spending on entitlement programs, such as Social Security, Medicare and Medicaid, he said.
He favors putting a budget cap on Medicaid spending and then distributing the money to states in block grants with few or no strings attached, he said. Then states can decide how the money can best be used, he said.
Social Security and Medicare benefits should not be cut for those already relying on them, he said. But he favors a voucher system for younger people that would allow them to make their own health care spending decisions when they are eligible for Medicare benefits.
"Americans are very capable of taking care of themselves," he said.
He favors a similar Social Security change, with younger people given the responsibility to invest money in personal accounts.
In discussing dam breaching, he said he is concerned that tearing down any dam on the Snake River puts every other dam at risk. Some environmentalists believe that the only way to save endangered fish is to breach dams on the Lower Snake River and it's an option of last resort in the federal salmon recovery plan.
"Dam breaching is the last resort -- until the first lawsuit," Hastings said.
Under current management practices with the dams untouched, fish runs have come back in numbers that haven't been seen since records began being kept in 1938, he said.
He continues to support public access to the top of Rattlesnake Mountain in the Hanford Reach National Monument. The top of the 3,600-foot mountain, the highest point in the Mid-Columbia, now is closed to the public.
He plans to reintroduce legislation that would allow public access but not dictate how or when the access occurs.
As chairman of the committee responsible for the National Park Service, he also plans to write legislation related to Hanford's B Reactor. It will authorize a plan to preserve Manhattan Project sites, which Hastings believes should include historic facilities at Los Alamos, N.M.; Oak Ridge, Tenn.; and Hanford.
The federal government is without a budget for the fiscal year that started Oct. 1 and the government is operating under a continuing resolution that expires March 4.
"No one wants the government to shut down," Hastings said. "What Americans want is fiscal responsibility."
On Saturday, the House passed a new budget proposal, a continuing resolution for the remainder of the year, that would cut Department of Energy spending on environmental cleanup by about $245 million from the president's budget request for fiscal 2011 of $6 billion, according to Hastings' staff. DOE would be responsible for dividing it up to do work, including at Hanford.
But the Democrat leaders in the Senate have not given any indication they will bring the House bill before the Senate.
The House continuing resolution also includes language that gives DOE authority to use federal economic stimulus money to pay for the layoffs of workers who were hired to do work with stimulus money and will lose their jobs once money is spent. It also blocks DOE from using money from annual budgets to pay for the layoffs, according to Hastings' staff.
Hastings has called for steady funding for Hanford, rather than the peaks followed by valleys that result in layoffs.
---
Annette Cary
Doc Says He'll Nix All Snake Dam-Breaching Bills
The News Tribune, February 24, 2011
---
See what you can learn
learn more on topics covered in the film
see the video
read the script
learn the songs
discussion forum