---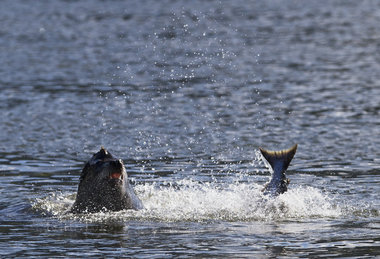 PORTLAND, Ore. -- The Humane Society of the United States said Friday it has filed a federal lawsuit seeking to block the killing of California sea lions that eat endangered or threatened salmon at Bonneville Dam.
The lawsuit came a week after the National Marine Fisheries Service authorized wildlife managers in Oregon and Washington to resume trapping and killing the sea lions. The mammals eat the migratory fish as they gather at the dam east of Portland while heading up the Columbia River.
The Humane Society had won a 9th U.S. Circuit Court of Appeals ruling in November 2010 that said the fisheries service, part of the National Oceanic and Atmospheric Administration, had not properly justified its decision to remove and kill the sea lions.
The fisheries service said last week it had complied with the court requirements.
The Humane Society has argued that Northwest salmon and steelhead populations are at greater risk from overfishing and hydroelectric dam operations than they are from native sea lion predation. The organization claimed the sea lions eat only a small fraction of the fish that are caught or killed every year.
"We maintain this is a useless exercise," said Sharon Young, a Humane Society spokeswoman. "Killing the sea lions at the dam is not going to solve anything."
Calls to federal officials in Portland and Washington, D.C., were not immediately returned Friday. But the fisheries agency, also known as NOAA Fisheries Service, has declined to comment on pending litigation in the past.
The Oregon Department of Fish and Wildlife had resumed trapping the animals on Monday for removal to be euthanized, but state officials were unavailable on Friday due to a mandated furlough day.
Rick Hargrave, an ODFW spokesman, said earlier this week that biologists were looking only for sea lions that had been branded as repeat offenders. The practice is to try to haze the animals to chase them away and identify the ones that keep feeding, he said.
The new lawsuit, filed in U.S. District Court in Washington, D.C., claimed the fisheries service failed to require Oregon and Washington to show any changed circumstances justifying authorization of lethal removal of sea lions.
It also alleged the agency should have filed either a supplemental "environmental assessment" or an environmental impact statement before reauthorizing removal. Young said the Humane Society plans to seek a temporary restraining order to halt any removal or killing of sea lions.
Related Pages:
Killing Sea Lions Will Not Save Columbia River Salmon by John Balzar, Seattle Times, 2/7/8
Sea Lions vs. Salmon: Restore Balance and Common Sense by Fidelia Andy, Seattle Times, 2/15/8
Survival of Snake River Salmon & Steelhead Data compiled July 2004 by www.bluefish.org

---
William McCall, Associated Press
http://www.seattlepi.com/news/article/Humane-Society-challenges-sea-lion-killing-1388661.php
Seattle Post-Intelligencer, May 20, 2011
---
See what you can learn
learn more on topics covered in the film
see the video
read the script
learn the songs
discussion forum