---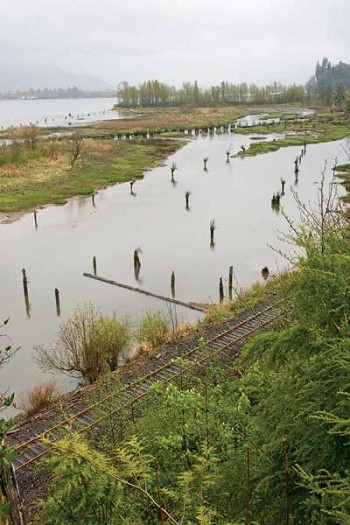 The Federal Energy Regulatory Commission has until Nov. 17 to decide whether it will re-hear the application of the Bradwood Landing LNG terminal.
The commission approved the terminal, which would import liquefied gas at its Columbia River site 20 miles east of Astoria, on Sept. 18.
Several parties, including the National Marine Fisheries Service and the State of Oregon, have come out against the proposal, asking the commission to reconsider its approval of Bradwood.
The letter from the fisheries service was particularly scathing, saying "the commission authorized these major construction projects despite the commission's failure to comply with several statutory prerequisites to final agency action, including the duty to consult the National Marine Fisheries Service on the license's effects on threatened or endangered marine species."
The service said the commission's failure to consult amounts to a violation of the Endangered Species Act.
"FERC's decision to license the facility before the state approved required water quality, air quality and coastal contingency permits, before the effects on fish have been studied and before environmental mitigation plans have been fully developed shows a complete disregard for the state's role and our concerns with the project," said Oregon Gov. Ted Kulongoski in a release. "FERC has one final opportunity to do this right."
The governor said the state will take the issue to U.S. District Court if the commission does not re-hear Bradwood's application.
Bradwood spokesman Joe Desmond said his company respects the FERC process, and has committed to comply with state regulations.
"We will satisfy all applicable state permitting requirements," Desmond said. "Our project cannot proceed until we have met those requirements as well as the conditions placed upon the project by FERC and Clatsop County."
The spate of re-hearing requests - including requests from the State of Washington, the Nez Perce tribe, the Confederated Tribes of the Umatilla, Columbia Riverkeeper, the Sierra Club and the Audubon Society - prompted Rep. David Wu, D-Ore., to announce his opposition to the project, and other LNG projects proposed for Oregon.
The commission's next meeting is scheduled for Nov. 20, but it could come back with a response to the re-hearing requests before then. Commissioners could also postpone their announcement until later, or automatically deny the requests by not taking any action.
If the commission rejects the requests for re-hearing, project opponents can sue the commission in U.S. District Court.
While the Bradwood Landing project includes a gas pipeline from the terminal to Longview, another company, Palomar Gas Transmission, is planning a compressed natural gas pipeline from Maupin to Bradwood Landing, connecting the terminal to the interstate gas network. That pipeline would pass under Washington County.
Related Pages:
LNG is on Path of Fish Sanctuary by Cassandra Profita, Daily Astorian, 11/3/8
---
Nick Christensen
Agencies Ask for Bradwood Re-hearing
The Hillsboro Argus, October 24, 2008
---
See what you can learn
learn more on topics covered in the film
see the video
read the script
learn the songs
discussion forum