---
New senators in Idaho and Oregon may help get all sides to the table to break the deadlock over recovery.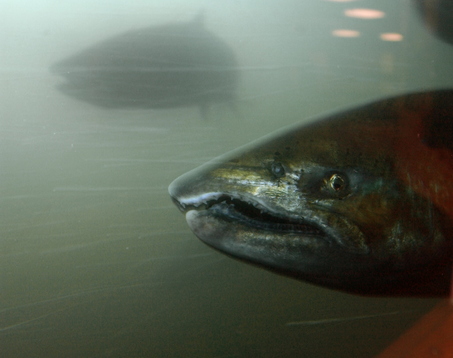 In the past two weeks, the political dynamics of the Columbia and Snake River salmon debate changed dramatically.
The election of new U.S. senators in Idaho and Oregon - one a Republican and the other a Democrat - may signal the coming of expanded talks on salmon and dams.
And Thursday, the Bush administration put its weight behind a plan to remove four dams on the Klamath River in Oregon and California - a major shift in the government's position on dams in the West.
The Klamath plan not only helps salmon but also allows irrigators enough water to continue their farming operations. The issues surrounding the dams, salmon and water are remarkably similar to those faced on the Snake River.
"This shakes the foundation of salmon recovery," said Bill Sedivy, executive director of Idaho Rivers United. "It shows that even conservatives are willing, when it makes sense, to take dams down."
At the least, it signals a newfound willingness for all sides to come back to the table on an issue that has pitted them in a deadlock as solid as the dams themselves.
The $450 million plan to remove the four Pacificorp dams on the Klamath came about because President Bush wanted to end the cycle where farmers had their water shut off and thousands of fish died as the two sides battled, Interior Secretary Dirk Kempthorne said.
"We had our directive from the president to find a collaborative solution so we don't keep pitting people against each other," he said.
That attitude is shared by the Northwest's two newest senators.
Idaho Republican Sen.-elect Jim Risch and and Oregon Democrat Sen. Elect Jeff Merkley both advocate a collaborative solution for the Columbia and Snake rivers.
Even before the Klamath decision, Merkley's hair-thin victory over Gordon Smith in Oregon and Risch's replacement of Larry Craig had set the stage for a similar regional forum on the Columbia salmon and dam debate waged since the early 1990s. Both men have expressed an interest in bringing key players to the table to work out a solution that would restore salmon - including Idaho's four endangered stocks - and preserve the economic health of the riverside communities and the region as a whole.
Risch has taken a similar path in the past. His widely praised effort to bring sides together to write a plan for Idaho's roadless national forests has fishing and environmental groups and at least one of the leaders of Idaho water interests thinking Risch can help bridge their differences again.
And Merkley and Rep.-elect Walt Minnick, who will be Idaho's only Democratic congressman, also have expressed support for such a forum.
"Never before has there been a better time to create a regional forum so people of the Northwest can directly influence how to recover the upriver stocks while making the affected communities whole," said Chris Wood, chief operating officer of Trout Unlimited. "This may be the last best chance to recover salmon and make communities a part the solution."
ALMOST TWO DECADESOF DEADLOCK
In the 1990s, 13 species of salmon and steelhead were declared threatened or endangered, prompting a legal and political battle that has been in deadlock for most of the last 17 years. The fight has never moved close to being resolved.
Salmon symbolize the region's history and still provide economic benefits to fishing communities and spiritual sustenance to Northwest Indian tribes. The four dams help sustain the economy: The slackwater behind the dams allows shipping 730 miles from the coast to Lewiston. At their peak, the dams generate enough hydroelectricity to power Seattle.
The biggest political shift could come as Risch replaces Craig, who has been one of the strongest opponents to even discuss removing the four dams in Washington on the lower Snake River that most scientists say is the best and perhaps only way to restore Idaho's salmon.
Craig's departure clears the way for expanded talks that look beyond salmon and dams to ways to improve the quality of life for the region, said Don Barbieri, a retired CEO of Red Lion Hotels who ran for Congress as a Democrat in Spokane and has come to believe that salmon recovery is crucial to his region's economy.
"For the first time I think we have a level playing field that doesn't have egos driving the decisions," he said.
Before anything can happen, though, U.S. District Judge James Redden must decide early in 2009 on whether the Bush administration's latest "biological opinion" - its salmon plan - meets the requirements of the Endangered Species Act. Federal agencies reached agreements with Washington, Idaho and Montana and all of the Northwest tribes except the Nez Perce to spend an additional $1 billion on habitat and hatchery projects they say greatly improve the plan.
"At this point, we're very optimistic the judge will look at the plan, the science in the plan and the funding and decide we are on the right path," said Terry Flores, executive director of RiverPartners, a group that represents federal power customers in the region.
If she's right, the political dynamics shift again. But Pat Ford, executive director of Save our Wild Salmon, is confident the judge will find the plan falls short legally and scientifically.
WATER USERS, SOME FARMERS OPEN TO TALKS
Norm Semanko, president of the Idaho Coalition for Water that represents business, agriculture and local governments statewide, said his constituents have nothing to fear from Risch and have strong support from Idaho Sen. Mike Crapo and Rep. Mike Simpson.
"You've got someone with a proven interest and understanding of the issue," Semanko said of Risch. "That's a big plus for all of us."
He pointed to the Nez Perce Water Rights Agreement approved in 2005, which protected state water rights and increased salmon habitat protection, as an example of his groups' willingness to negotiate.
"We as a water user community have always been interested in talking," Semanko said.
Senate Majority Leader Harry Reid of Nevada also expressed an interest in the issue last year because of the historic runs of Snake River salmon into Nevada tributaries. With Craig and Smith gone, the main voices opposing dam removal in the Senate are Democratic Washington Sens. Patty Murray and Maria Cantwell.
For any regional forum to be successful, Murray and Cantwell will have to be leaders in organizing it, and the discussions have to encompass more than just salmon, Ford said. Efforts to reach Cantwell and Murray were unsuccessful.
"From our point of view, this is about getting what salmon need but also getting what farmers need and energy consumers need," Ford said. "That's what it's going to take politically."
It also means helping Lewiston's economy, Ford said. Barbieri, who campaigned across the Northwest for President-elect Barack Obama, said he's confident the new president will help rural Northwest communities "grow their prosperity."
Obama's campaign staff said during the campaign that Obama believes all efforts to restore salmon habitat short of breaching dams should be exhausted first.
"Implementing a meaningful salmon population recovery plan will be a key environmental priority of my administration, and I support efforts to create a salmon recovery plan that balances all of these important environmental, agricultural and renewable energy interests," Obama said in a statement.
Fourth-generation wheat farmer Bryan Jones of Colfax, Wash., ships his grain to market on barges on a Snake River shipping lane that exists only because of the dams. But even he is open to discussions about other alternatives, including rebuilding the region's rail system and improving road access.
"I certainly am not going to cut my feet out, but I'm willing to have a dialogue about how everyone can be kept whole," he said.
The issues in the Columbia and Snake are far more complicated than the Klamath. Four states are directly involved in a watershed the size of France and occupied by 10 million people.
Kempthorne was hesitant to compare the Klamath agreement to the Columbia and Snake river issues.
"We have to evaluate each situation on a case by case basis," Kempthorne said.
Related Pages:
Sali and Minnick Clash Over Stance on Salmon and Dams by Rocky Barker, Idaho Statesman, 10/17/8
---
Rocky Barker
Election Could Alter Salmon Debate
Idaho Statesman, November 14, 2008
---
See what you can learn
learn more on topics covered in the film
see the video
read the script
learn the songs
discussion forum