---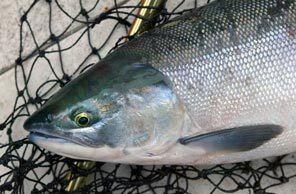 While spring and summer may feel like an eternity from now, state Fish and Wildlife unveiled early Columbia River salmon forecasts, some possibly equal or better than last season.
Last summer's biggest surprise was the record sockeye run that generated decent fishing in the Columbia River mainstem up to Lake Wenatchee. It was the first time a sport fishery occurred since 2004.
The original preseason forecast for Columbia River sockeye last summer was 75,600, and the actual return ended up being 214,500. It was the third-highest return since Bonneville Dam was erected in 1938. The record is 237,723 in 1955.
This summer's sockeye return is a robust 183,200 based off a jack sockeye count of 13,800 -- the largest return since data was taken 24 years ago.
"It looks like another good return of sockeye in the Columbia River next summer, based on age class and returns that came back to the Okanogan River," said Joe Hymer, a state Fish and Wildlife biologist. "There was also some improvement to the Wenatchee and Snake sockeye runs."
Usually Idaho sockeye returns average about 12 fish annually, but this past summer more than 700 came back.
Not only was the Columbia sockeye return huge last summer, these finicky fish that usually ignore lures were actually biting and giving anglers an extra yank on the end of a rod in a sport fishery that started in late June.
State Fish and Wildlife also opened a sport sockeye fishery in Lake Wenatchee Aug. 6-15. More than 3,000 sockeye were caught in the fishery that lured thousand of anglers from across the state.
More than 27,100 sockeye passed Tumwater Dam up to the Wenatchee River. In 2004, more than 30,000 sockeye returned, and fishing was open July 24 to Aug. 31.
Other salmon-return forecasts for spring, summer and fall look to be on par or better than last year.
The upriver Columbia spring chinook return is predicted to be 297,900 (178,800 actual return, with 269,300 predicted last year). The upriver Columbia summer chinook return is predicted to be 70,700 (55,400 actual and 52,000 predicted last year).
However, the spring chinook returns to the Lower Columbia tributaries aren't too rosy.
The Cowlitz forecast is 4,100 (2,700 returned last year); Kalama is 900 (1,600), which is the lowest since 1998; and Lewis is 2,200 (2,400), which is about half the size of the recent 10-year average.
The Columbia bright fall chinook forecast is up and, in some cases, significantly better. Last year's forecast was 234,700, and the actual return was better.
"The driver in the Columbia fisheries is the upriver bright chinook, and they will be back in good numbers again next year," Hymer said.
The Lower Columbia River tule fall hatchery chinook is expected to be better than last year's predicted run of 142,100, although the Bonneville Pool hatchery return will be down.
"The Spring Creek Hatchery tule fall chinook contribute to the coastal and Buoy-10 fisheries," Hymer said. "They're expecting a good return of 4-year-old fish, but the 3-year-old return won't be nearly as large."
Last summer's Columbia River coho return was predicted to be poor, with just 164,800 fish, but the preliminary return was 415,000. This year's coho return hasn't been set, but should be improved.
"For coho there wasn't much fishing going on in the Columbia, and that helped the run," Hymer said. "A lot of jack coho came back to places like the Cowlitz and Toutle, and the coho that did make it back as adult fish did well. That is a sign the ocean conditions turned around. So we should see some improvement next year."
The state Fish and Wildlife Commission will consider adopting new fishery management plans for Columbia River spring and summer chinook in a public meeting Jan. 9-10 at the Natural Resources Building in Olympia.
The statewide salmon forecasts will be announced at a public meeting March 4 in Olympia, followed by seven more meetings. Final seasons will be adopted April 7-11 at the Seattle Marriott Hotel in Sea-Tac.
---
Mark Yuasa
Outlook Good for Summer Salmon Returns
The Seattle Times, January 4, 2009
---
See what you can learn
learn more on topics covered in the film
see the video
read the script
learn the songs
discussion forum