---
Turbines above the Gorge will soon help power Cowlitz County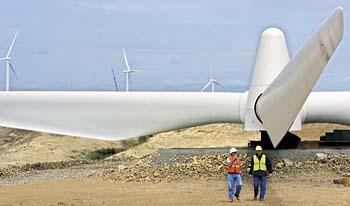 ROOSEVELT, Wash. -- Nearly four times taller than the Monticello Hotel, 18 windmills stand at the crest of a wheat-lined hilltop, ready to harvest energy from the steady winds that sweep over these Washington ranch lands.
They're part of a $361-million Klickitat County wind farm with 89 turbines that will eventually power toasters, lights and ovens in Cowlitz County.
The so-called White Creek project is Cowlitz PUD's first wind power project, and it's unlikely to be the last. Utility officials say more investments in wind are likely as the utility seeks ways to keep rates down and comply with a new, voter-approved renewable energy law.
"To some degree, we took a bit of a chance and anticipated some things and, in the end, it all came together," said Brian Skeahan, PUD general manager. "And here's the kicker: If we were to do this project again and buy the very same products, the cost would be about 38 percent higher. So we got there when the economics were good ... which will help control rates."
The PUD already is talking about possibly adding 40 additional windmills at White Creek, but not until after the initial 205-megawatt project comes on line in January.
"We have not committed to the addition," PUD spokesman Dave Andrew said last week. "We want to see this project built and see how it runs."
A different kind of assembly line About 370 construction workers can complete one 415-foot windmill per day. As of last week, the crews were near to completing 20 of them since tower construction started last month.
"Here, it's like a production line -- only the people move, not the product," said Bob Young, project construction manager for White Creek.
Sections of the wind towers arrive from all over the world. Steel towers come from South Korea; turbine generators and blades come from Denmark. The parts are unloaded at the Port of Longview, creating work for local longshoremen. Truckers then haul them through the Columbia River Gorge to the 9,500-acre wind farm.
Workers mount each wind tower on a pad made with 300 cubic yards of concrete, using a giant crane that crawls from tower to tower and hoists tower sections, turbines and 148-foot-long blades into position.
"It's like clockwork -- it has to be," Young said. "The logistics here are tough. It's thousands of dollars a day for that crane. You don't want to miss a day because a piece is not here. Logistically, that is a nightmare."
Each of the massive parts must fit together exactly, meaning no piece can get dinged crossing the ocean or the land. So far, so good.
"Now, we would like the wind to stay calm during construction," said Young, as a breeze whipped up Wednesday afternoon and stalled crane work. "It can blow like hell when we're done. That'd be great."
Waiting for the wind Planning for the White Creek project began in 2003, when Cowlitz PUD lured Skeahan from Klickitat County PUD to be the utility's assistant general manager. Skeahan, 51, helped start the White Creek project, Andrew said.
The timing of the project seemed perfect. "There were several things aligning here," Andrew said.
The Bonneville Power Administration is close to deciding how much electricity each utility will get once the Columbia River hydroelectric system reaches capacity in 2011. The BPA is a federal agency that markets and distributes that power.
Once utilities know their BPA power allotment, they can plan how to meet future power needs.
"We can make some pretty good guesses," Andrew said. "We think that in 2012 we'll need other resources to meet our load requirements. That's where White Creek comes in."
Another factor driving the wind project is Initiative 937.
Washington voters passed the measure last year, mandating larger utilities to increase investment in wind power and other forms of renewable energy. Large utilities have to get at least 15 percent of their power from non-hydro renewable energy by 2020.
"That issue had been a topic in the Legislature for years, and it became obvious that either by legislation or an initiative ... we would have some sort of renewable standards," Andrew said. "You could see it coming.
"With I-937, we're not quite there, but White Creek is a great start, Andrew said. We feel we are well ahead of other public utilities our size."
According to Dean Boyer, spokesman for the Washington Public Utility Districts Association, the White Creek and Nine Canyon wind projects are well ahead of I-937 requirements. (Nine Canyon is a wind farm built by public power consortium Energy Northwest.)
"Other public utilities are obviously looking at their options," Boyer said. "We are really still in the early phases."
Boyer said the utilities can always buy high-priced renewable power from the market instead of building their own sources. "But wind power and conservation are certainly the first two options to addressing the I-937 requirements ... and Cowlitz is ahead in the game."
The power of wind
The PUD's project is one of several to harness the free and reliable gusts that whip through the Columbia River Gorge. By the end of this year, the Northwest is expected to have more than 2,000 megawatts of wind turbines online, according to the BPA.
Another 2,000 megawatts are in the planning stages and more proposals are expected --- most clustered along the Gorge between The Dalles, Ore., and Walla Walla. By 2024, Northwest wind farms may be producing as much as 6,000 megawatts of power, nearly as much as Grand Coulee Dam.
Demand for the green power resource surged during the West Coast energy crisis in 2000-2001 and has continued to grow. The demand caught Congress's attention earlier this decade, spurring legislators to create a tax credit for wind farms built by private owners.
The 1.9 cent-per-kilowatt-hour tax credit, extended through 2008, slices millions from the private financiers' federal taxes.
To take advantage of the credit, Cowlitz PUD and three smaller public utilities sold the White Creek wind farm plan to an investment group formed by Prudential Insurance and Lehman Brothers.
The investors will pay $173.5 million for the wind farm. The utilities --- Cowlitz PUD, Klickitat PUD, Lakeview Light and Power, and Tanner Electric Cooperative --- will advance $187.7 million for 10 years' worth of power. Cowlitz PUD currently has the largest share of the wind farm's power, with 46 percent.
In return, ratepayers will save money by getting big-money investors involved who qualify for the tax credit. In 10 years, the utilities can buy the wind farm at "fair market value."
"It is the cheapest route we could have gone," Andrew said. "If we couldn't use that production tax credits, the price would have been more than what market power is sold for."
White Creek and your rates
White Creek power will cost about $50 per megawatt, but without the tax subsidy it would cost more than $65 an hour, the current market rate for new power sources, Andrew said
When complete, White Creek should produce about 68 megawatts, and the PUD's share --- 31.5 megawatts --- will be enough to power 17,000 homes. That's more than the output of PUD's Swift No. 2 hydropower project on the Lewis River, which generates about 26 megawatts.
Wind power, which now supplies only 0.5 percent of the PUD's power, will account for 6 percent when the PUD taps into White Creek.
However, the utility won't need the power until about 2012. Until then, it will sell off the power.
"When the time comes to use White Creek's power, it will be cheaper than buying power at the market rate," Andrew said. "There is just no more cheap hydropower."
---
Evan Caldwell
Watts of Wind
The Daily News, July 21, 2007
---
See what you can learn
learn more on topics covered in the film
see the video
read the script
learn the songs
discussion forum