---
It Added Nearly 3,600 People in 2006
SPOKANE, Wash. - The Pasco area was the fastest-growing part of Washington state in the past year, with Franklin County growing an estimated 5.7 percent in 2006 from the year before, according to the latest county population estimates from the U.S. Census Bureau.
Franklin County added an estimated 3,598 people during the year, growing to 66,570 total residents, the bureau said. The county has a strong farm economy and is near the Hanford nuclear reservation and its many jobs. Statewide, Washington grew 1.7 percent, adding 103,899 residents for a total of 6,395,789, making it the second most-populous state in the West after California.
King County, which includes Seattle, remained by far the largest county in the state, growing 1.5 percent over the year to 1,826,732 residents. King also added the greatest number of residents, 27,613.
The rest of the top 10 counties by population in the state remained in the same order, except for Thurston and Yakima counties, which switched places.
Thurston County, including Olympia, grew 2.5 percent to 234,670 people, becoming the seventh-largest county in the state. Yakima County grew just under 1 percent, to 233,105 people, falling from seventh to eighth place.
The only counties in Washington to lose population were
Garfield, home of Pomeroy and the state's smallest county, down 3.1 percent to 2,223 people;
Columbia, home of Dayton, down 1.3 percent to 4,087 residents;
Whitman, home of Pullman, down 0.7 percent to 39,838 people;
and Kitsap, home of Bremerton, down 0.4 percent to 240,604 people.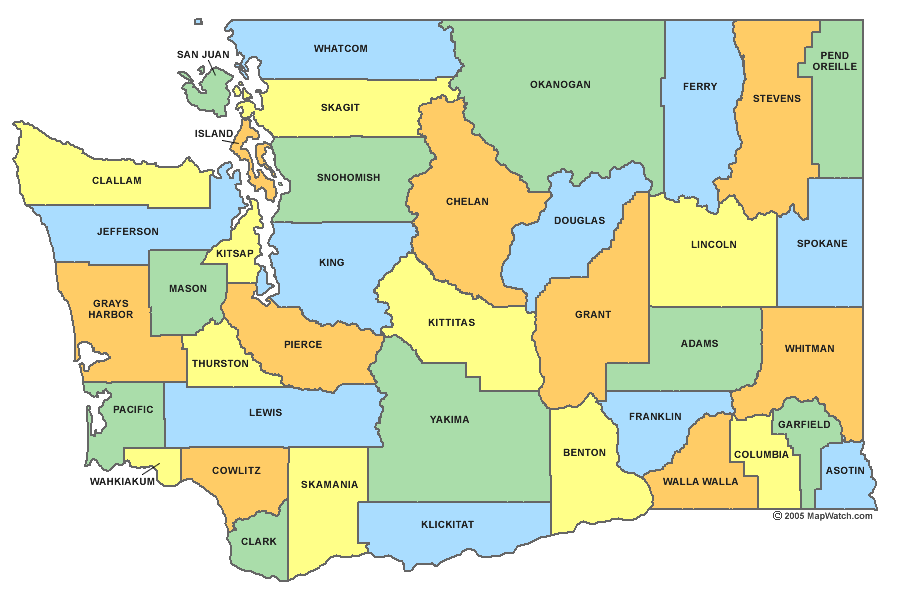 Garfield, Columbia, Whitman are Wheatlands of the Snake River
whereas Franklin hosts the port of Pasco at the mouth of the Snake.
Other big gainers by percentage were

Wahkiakum County, up 3.6 percent to 4,026;
Mason County, up 3.3 percent to 55,951
and Cowlitz County, up 2.8 percent to 99,905 people.

Washington has enjoyed steady growth since the 2000 census, when the state had 5.9 million residents.
The Top 10 counties in population estimates as of July 1, 2006, were:

King, 1.8 million, up 27,613 residents.

Pierce, 766,878, up 13,669.

Snohomish, 669,887, up 14,323.

Spokane, 446,706, up 6,272.

Clark, 412,938, up 8,872.

Kitsap, 240,604, down 921.

Thurston, 234,670, up 5,789.

Yakima, 233,105, up 2,168.

Whatcom, 185,953, up 2,590.

Benton, 159,463, up 1,543.
For King County, the population trend represents a change from recent years. In 2006, more people moved to King County from elsewhere than left for another county, reversing a trend going back at least to 2000.

"It absolutely has everything to do with the fact that we continued to lose jobs, especially in the Seattle area, straight through to 2004," King County regional labor economist Cristina Gonzalez said.

The Census Bureau estimates annual county population totals as of July 1, using local records of births and deaths, Internal Revenue Service records of people moving within n the United States and statistics on immigrants.

Among the bureau's findings nationally:
Of the five U.S. counties that lost the most people from 2005-06, four were hit by Hurricane Katrina. The biggest decrease was in Orleans Parish, where the population dropped by nearly 229,000, to about 223,400.

Maricopa County, Ariz., home to Phoenix, added the most people from 2005-06: nearly 130,000, to about 3.8 million.

Chattahoochee County, Ga., had the highest percentage growth from 2005-06, at 13.2 percent, to just more than 14,000 people.
---
Staff
Franklin Fastest-Growing County in Washington
Capital Press, April 16, 2007
---
See what you can learn
learn more on topics covered in the film
see the video
read the script
learn the songs
discussion forum