---
About 1,300 sockeye salmon to spawn in Redfish Lake this fall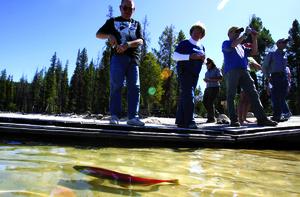 STANLEY - One by one, men with nets lifted the bright red fish out of the tanker truck.
Lowered to the water's surface, the fish were ceremonially displayed to the gathered crowd. Then each sockeye salmon flipped and twisted its way into the cool and welcoming Redfish Lake.
The lake earned its name from the sockeye that used to fill it with color. Those fish have become scarce in recent decades. But on Wednesday, 245 of them - all of whom braved the Pacific Ocean and then a series of rivers and dams to return to Idaho - splashed into Redfish, ready to spawn their next generation.
More than 700 sockeye have returned to Idaho from the Pacific this year. About 1,300 sockeye, both returnees and fish bred in hatcheries by the Idaho Department of Fish and Game and the U.S. National Oceanic and Atmospheric Admini-stration, are expected to be placed in Redfish Lake this fall.
That's a sum that hasn't been seen since 1956, said Jeff Heindel, the agency's state conservation hatchery manager.
That certainly doesn't mean the fish are recovered, Heindel pointed out - that would take more like 2,500 fish returning and spawning consistently for several generations. But about 30 people, including members of the media, people relaxing at the lake and representatives of several state and federal agencies and the Shoshone-Bannock Tribes, gathered to celebrate this year's return of the fish.
Agency staff and other volunteers strapped on waders and helped release several of the fish using nets. Fish and Game employees then released most of the sockeye using a tube from the tanker truck.
Vanessa King held her young nephew, Vaughn Loertscher, as the toddler touched the fish. Her own father, Robert King, an employee with the Utah Department of Natural Resources, said he works to save other fish species in that state and enjoyed celebrating Idaho's progress.
"It's still exciting," he said.
What was originally to be just a gene-bank program for Idaho when it began in 1991 is now becoming a recovery program for sockeye, Heindel said, and ramping it up has contributed along with many other factors to this year's returns.
It's not always clear what may be ahead for the fish, especially with a federal court case set to decide the fate of its Chinook and steelhead cousins. The solutions that will eventually be mandated in that case may affect the sockeye as well, and Heindel spoke of the need for everyone to work together to save the salmon "rather than take sides and point fingers."
"This is, for some of the folks who have been with the program a long, long time, an important day," he announced.
---
Nate Poppino
Colorful Comeback <<- Video at original site.
Times-News, September 10, 2009
---
See what you can learn
learn more on topics covered in the film
see the video
read the script
learn the songs
discussion forum