---
---
Q. If you're thinking about tearing down the dams tomorrow, what about the lawsuits and how long will that take?

A. Importantly, this case is already in litigation. Breaching the LSR dams will end that litigation.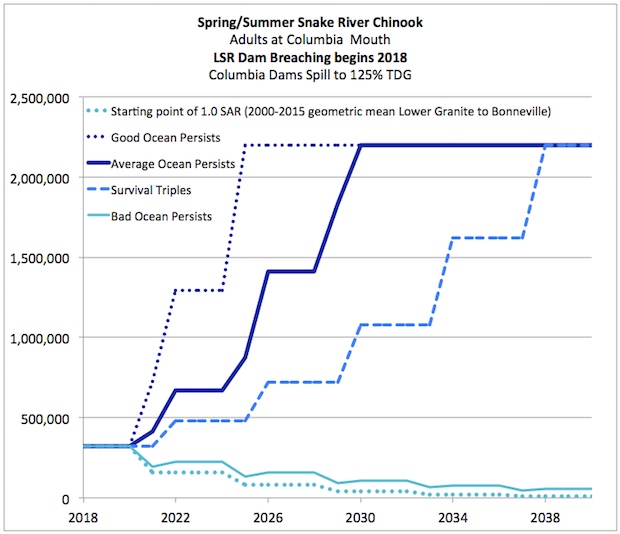 Legal challenges will likely begin as soon as the Save Our Dams movement sees a sizable threat imposed by Gov. Inslee's Orca Task Force.
A judge can decide to stop the dewatering, or to stop the impending breach. But injunctions are only implemented if an action is irreversible. Putting the dirt back in and impounding the Lower Snake reverses the channel bypass action. On the other hand, extinction is not reversible.
Repeatedly, efforts to protect the LSR dams have appeared in Congress, but none have advanced to become law.
Most recently, House Representative Cathy McMorris Rodgers (R-WA) was able to get her H.R. 3144 through the House of Represenatives April 25, 2018, but her bill stalled in the Senate Committee on Environment and Public Works.
SEC. 4. LIMITATION ON RESTRICTING FCRPS ELECTRICAL GENERATION OR NAVIGATION ON THE SNAKE RIVER.

No structural modification, action, study, or engineering plan that restricts electrical generation at any FCRPS hydroelectric dam, or that limits navigation on the Snake River in the State of Washington, Oregon, or Idaho, shall proceed unless such proposal is specifically and expressly authorized by an Act of Congress enacted after the date of the enactment of this Act. Nothing in this section affects or interferes with the authority of the Secretaries to conduct operation and maintenance activities or make capital improvements necessary to meet authorized project purposes of FCRPS facilities.

--

H.R. 3144

passed the House of Representatives April 25, 2018.

Then in the Senate, the bill dies in Committee.
Submission of this legislation seems to be admission that Authority to Breach does not currently rest with Congress. Otherwise, why would the Central Washington Congresswoman be seeking to obtain such Authority for Congress to hold?

---
Breaching is reversible, extinction and ecosystem collapse is not.
The concept of sustainability has been increasingly brought into focus as we have become convinced that all systems on earth are interrelated and that many of today's problems were the solutions of yesterday. Sustainability is, however, a very old concept. Most American Indian cultures understood the importance of sustainability and sustainable development, living in harmony with all things.

Many people are familiar with the Seventh Generation philosophy commonly credited to the Iroquois Confederacy but practiced by many Native nations. The Seventh Generation philosophy mandated that tribal decision makers consider the effects of their actions and decisions for descendents seven generations into the future. There was a clear understanding that everything we do has consequences for something and someone else, reminding us that we are all ultimately connected to creation.