---
---
If the four Lower Snake River (LSR) dams are breached...
Q. Who would fund the removal of earthen embankments of the four LSR dams?
A. Three potential sources of funding are 1) ACOE/BPA, 2) Local Sponsor or 3) US Treasury.
---
Financial Analysis (from FR/EIS Appendix I February 2002)

12.2 Potential Sources of Funding


Table 12-2. Joint-use Percentages for
Construction Costs by Project Purposes
Projects
Allocated to Power
Allocated to Navigation
Lower Monumental
94.1%
5.9%
Ice Harbor
78.6%
21.4%
Little Goose
93.3%
6.7%
Lower Granite
98.4%
1.6%
Simple average
across all four facilities
91.1%
8.9%

Under the dam retention strategies implementation costs would be covered by the existing cost allocation rules. However, if dam breaching were the selected alternative, there are three potential sources for funding:

Continue with the existing cost allocation rules (under Corps fish mitigation principles)

Seek a local sponsor who would share the costs with the Federal government for dam breaching (under Corps fish recovery principles)

Congress authorizes the Treasury to pay all (or a part) of the cost to breach. These issues are addressed in the following section.

12.2.1 Existing Cost Allocation Basis (Fish Mitigation)
As documented in the cost allocation analysis (Section 11), the repayment cost of existing projects is mainly allocated to power. Under existing cost allocation rules, power is currently required to pay for approximately 91 percent of the costs associated with the projects (e.g., averaged across all four lower Snake River facilities). BPA repays the Treasury for these costs. Navigation is responsible for the remaining 9 percent of costs, which is considered a Federal cost. Table 12-2 shows the joint-use percentages for construction costs by project uses.

Existing cost allocation rules would require that approximately 91 percent of the implementation costs are covered in BPA rates, with the remaining 9 percent covered by the Federal government.

12.2.2 Cost Sharing with a Local Sponsor (Fish Recovery)
The typical process of developing a finance plan for a Corps construction program is to develop a cost sharing agreement between a local sponsor and the Federal government.

In accordance with the Water Resources Development Act of 1986 (PL 99-662), costs for studies and projects are shared between the Federal Government and the local sponsor. A sponsor is defined as:

A sponsor can be a state or any other political subpart of a system or group of states; an Indian tribe; or a port authority; which has the legal and financial authority and capability to provide the cash and real estate requirements needed for a project. A sponsor can also be an interstate agency, established under two or more states with the consent of Congress under Section 15 of Article 1 of the Constitution Section 221 of the 1970 Flood Control Act defines a local sponsor for a Corps water resources project as a non-Federal interest that is "a legally constituted public body with full authority and capability to perform the terms of its agreements and to pay damages if necessary, in the event of failure to perform.

In this study, there is no local sponsor. This feasibility report is furnished in response to the NMFS Biological Opinion for the Reinitiation of Consultation on 1994-1998 Operation of the Federal Columbia River Power System and Juvenile Transportation Program in 1995 and Future Years. Therefore, the source of funds to implement Alternative 4--Dam Breaching is uncertain.

12.2.3 Congressional Appropriation
Implementation of Alternative 4--Dam Breaching could be funded entirely (or partially) by direct congressional appropriation. As described in the Technical Report on Hydropower Costs and Benefits (DREW Hydropower Impact Team, 1999; Section 7.1, Page 104):

Congress will ultimately answer the repayment question in the legislation that would authorize the implementation of the selected alternative. The Congressional authorization could contain directive language concerning the allocation of project construction costs. For example, Congress could direct that removal of the Snake River Dams is of national interest and the taxpayers' responsibility, and BPA would not have to repay any of the construction costs.

It is unknown at the present time whether congressional authorization would be forthcoming for all or part of the outstanding debt, implementation costs, and/or mitigation/compensation costs.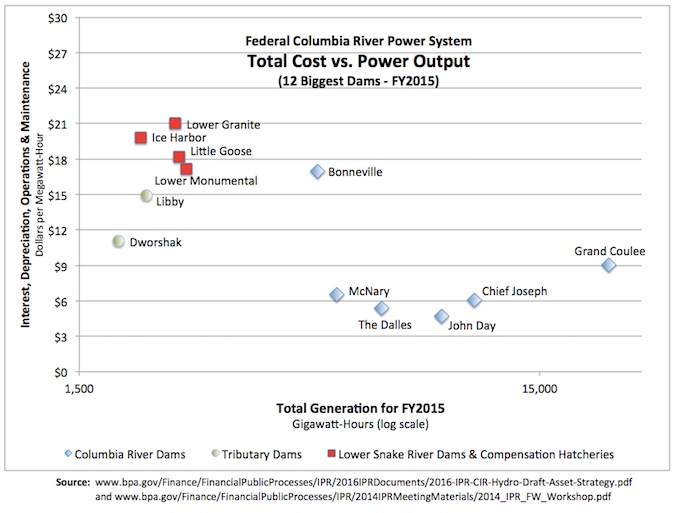 ---
Breaching is reversible, extinction and ecosystem collapse is not.
The concept of sustainability has been increasingly brought into focus as we have become convinced that all systems on earth are interrelated and that many of today's problems were the solutions of yesterday. Sustainability is, however, a very old concept. Most American Indian cultures understood the importance of sustainability and sustainable development, living in harmony with all things.

Many people are familiar with the Seventh Generation philosophy commonly credited to the Iroquois Confederacy but practiced by many Native nations. The Seventh Generation philosophy mandated that tribal decision makers consider the effects of their actions and decisions for descendents seven generations into the future. There was a clear understanding that everything we do has consequences for something and someone else, reminding us that we are all ultimately connected to creation.